How To Help
We rely heavily on our local community to deliver these services. Whether that be making a financial donation, donating food items for the foodbank, purchasing goods for Helper Packs, donating time volunteering or through fundraising activities.

We get support from individuals; school staff and pupils; Forth Valley College staff and students; Stirling University staff and students; churches; community groups such as the Boys Brigade, Scouts, Girl Guides, WRI; local businesses and third and public sector organisations.
Here are a few of the ways that you can get involved and help local people in hardship.
Donate
Food
We regularly update both our website Where to donate? and Facebook with the items we are most in need of and where our collection points are.
Items
We're in regular need for items for our Helper Packs. We need items such as:
Pots, pans and cooking utensils
Towels (new preferably)
Cleaning products such as washing up liquid, cleaning spray, toilet cleaner, cloths
Basic kitchen cupboard items such as tea, coffee, sugar, salt, pepper
Toiletries, baby food and nappies
We'd also love to receive items we could use in raffles or auctions to support our fundraising efforts.
Money
The easiest way to donate money to us is through our online Donations page.
Do you do shopping online? You can support us through Easyfundraising. Once you register pick Start Up Stirling as your charity. Each time you are shopping online with a retailer that supports Easyfundraising, click activate and the retailer will donate a percentage of the sale directly to us.
Amazon Smile allows you to raise money for Start Up Stirling as you buy and is now also available on their mobile app.
If you're taking part in an event or putting yourself up to a challenge you could also fundraise for Start Up Stirling. Check if your employer provides match funding to double the value of your donation!
Volunteer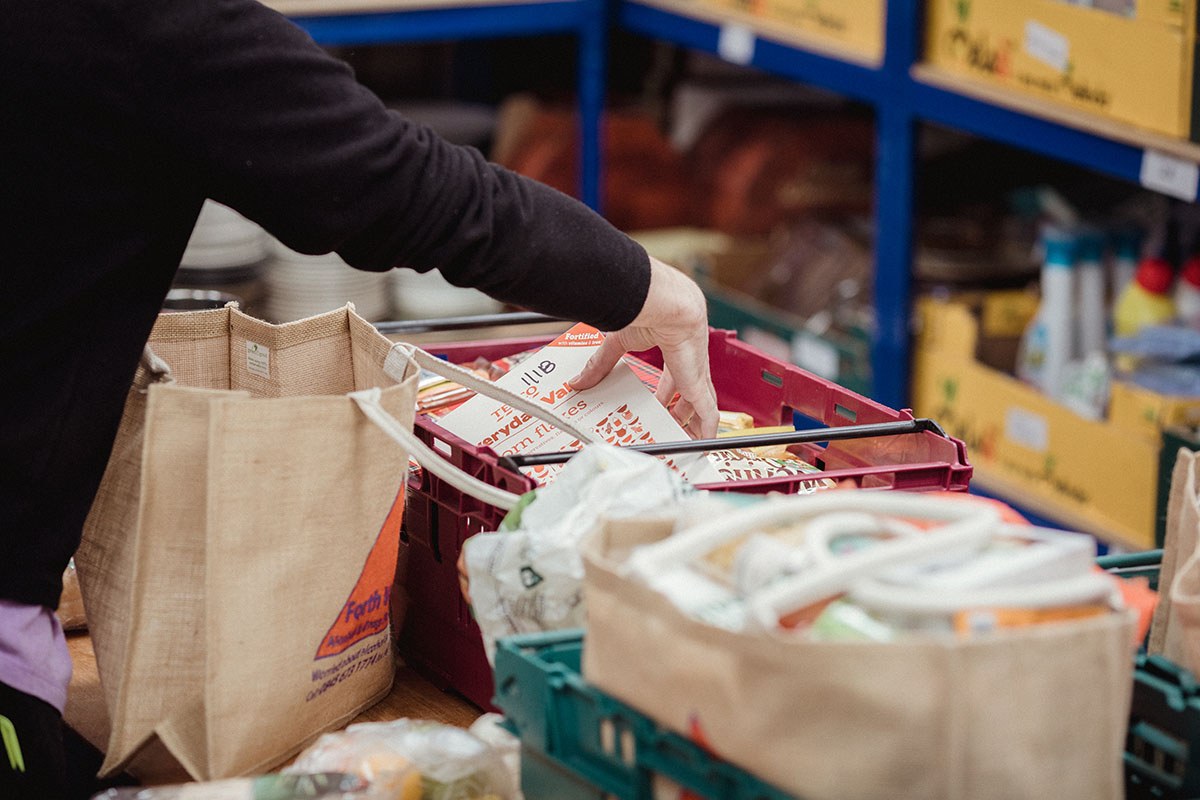 Our team of over 80 volunteers are critical to every aspect of our work, whether that be having a cuppa with someone at the foodbank, sorting donations, packing crates of food in our warehouse or driving our van to deliver food parcels in rural Stirling.

Whatever your interests, skills and experience and however much time you can offer, we have a suitable volunteering opportunity for you. Here are a few areas where we need help…
Warehouse: donations are checked for quality and date, categorised and stored. There are then made up into food packs and starter packs
Foodbank: meeting with clients directly, greeting them, getting them a cuppa, helping they with their food allocation and speaking with them / offering them support
Support Service: interact with local people in crisis at our weekly lunch session. Listen to people and signpost organisations that could help them
Food partnership / Supermarket liaison: working alongside our Community Partnerships Co-ordinator with the local supermarkets and suppliers for example at collection days
Community Champion: act as community champion for Start Up Stirling at your place of work, school, university or group that you are a member of. You could organise a donation station, hold a one off fundraising activity, promote us as Charity of the Year or come and volunteer as a group
Fundraiser: working alongside our Community Partnerships Co-ordinator planning and executing community fundraising events
Driver: driving our van either to deliver food parcels in rural Stirling or transporting food collections from the supermarket to our warehouse
Collection can service: meeting the public at events, fundraisers or supermarket collections and asking for a financial donation with a bucket
Application process
Thank you for considering volunteering with the Charity in this new year.
COVID-19 has brought many challenges and in order to keep all our staff and volunteers as safe from the virus as we can, we are not currently taking on any new volunteers.
As soon as we are in a position to start recruiting again we will update this page.
Please feel free to contact us again when COVID-19 restrictions have been lifted.

If you'd like to apply to become a volunteer please email volunteer@startupstirling.org.uk. We will let you know the areas that are needing volunteers for and if you are interested we will send you an application form. Upon receipt, we will contact you to arrange an informal interview, after which we will request references.
We will then be in contact to arrange your training schedule appropriate to the role you are volunteering for. All training relevant to the role will be provided and may include, for example, Food Hygiene, Boundaries and Confidentiality, Moving and Handling, and Active Listening.
Fundraising
There are lots of fun and easy ways to get involved and raise funds, whether you would like to do this at home, at work, at school or at church.


From taking part in a sponsored activity, holding a bake sale, or by nominating us for your work charity of the year partnership, there is a way for everyone to get involved.

We love reading about how creative our fundraisers are and especially how our young fundraisers come up with great initiatives. Please share your stories with us!
Your Fundraising Story?
If you would like to arrange an event or like a fundraising pack please contact us on 01786 561027 or send us an email. We would love to hear from you!